"Creating beautiful home spaces that feel good and nourish people has been a passion of mine for as long as I can remember. Drawn by the larger questions of how our living spaces reflect us, affect us, and support us, I discovered and pursued a more intuitive branch of
feng shui
(and little-known field at the time) called space clearing. That was nearly twenty years ago. My journey as a "house whisperer" has since evolved into a 
mission:
 to change the way people relate to their stress and stuff, and teach simple and gentle
ways to release it."
~ Stephanie Bennett Vogt
About the Author
Stephanie Bennett Vogt, MA, is a leading space clearing expert, international teacher, and the author of Your Spacious Self: Clear the Clutter and Discover Who You Are, and A Year to Clear: A Daily Guide to Creating Spaciousness in Your Home and Heart. She brings over thirty-five years to SpaceClear, the teaching and consulting practice she founded in 1996 to help homes and people come into balance.
She has taught her inspiring clearing programs at centers including Kripalu and the New England School of Feng Shui, and is the creator of two bestselling courses on DailyOM, which now count on over 30,000 participants combined.
Stephanie's work on simplifying, self-discovery, and letting go appears on the Huffington Post and in two book anthologies: Pearls of Wisdom with Jack Canfield, Marci Shimoff, et. al. and The Thought That Changed My Life Forever with authors Drs. Joe Dispenza, Bernie Siegel and others.
Stephanie and her husband divide their time between Concord, Massachusetts and San Miguel de Allende, Mexico.
Turns out I didn't need to go on a pilgrimage or meditate on a mountaintop to find myself. My home became my temple, my clutter was my teacher, and my journey of self-discovery began with clearing out a single drawer.
In 1996 I walked away
from teaching at one of Boston's preeminent schools at the height of a twenty-year career. I was at the top of my game, and burned out. I didn't know what I loved anymore, or who I was.
By releasing a huge part of my personal and professional identity, I was able to get in touch with the things that made my heart sing (and cringe): my passions, my longings, my fears… my clutter!
For the super-organized neatnik that I am, this last revelation came down like a sledge-hammer to my self-concept and world-view.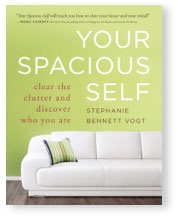 Your Spacious Self took ten years to write. The amount of time it took to decode and embrace my own slippery relationship with my stuff and my stress, and discover the secret why most well-intentioned clearing practices don't last.
With all the inspiration that I've received through life experience, extraordinary opportunity, and study with brilliant teachers over the years there's no replacing the wisdom that simply comes from living life in present time, embracing the shadow when it shows up, and entering each moment with innocent curiosity. When I can bring these qualities to the table, I feel totally spacious—and complete.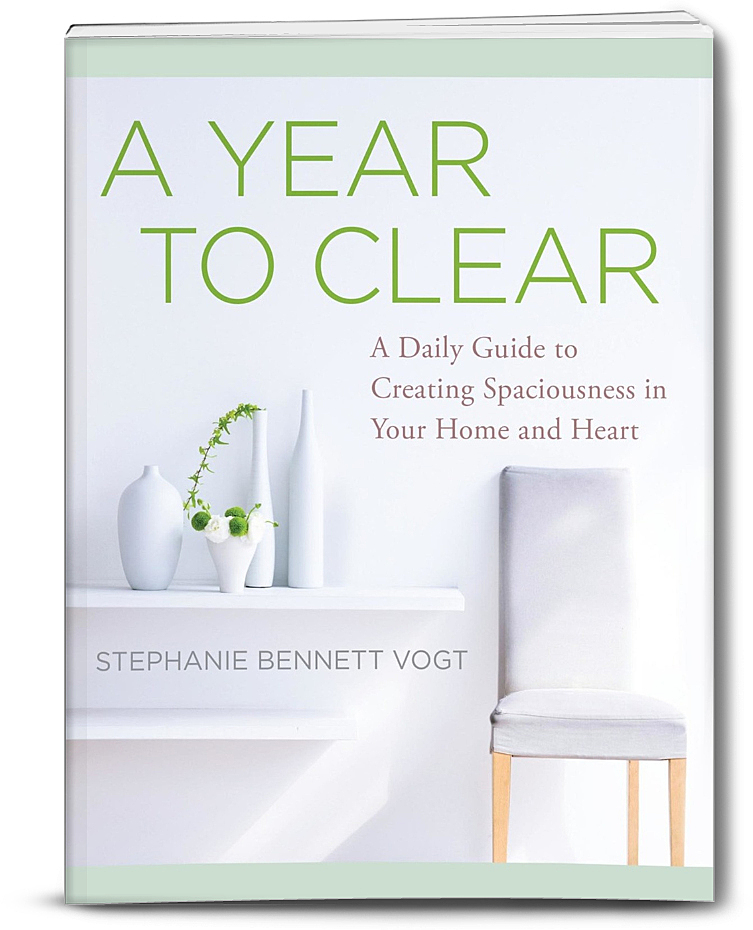 After nearly two decades on this path I am excited to share what I know deep in my bones about clearing our homes and our lives; to offer resources that meet you where you are, and programs that transform a class "you take" into one that "takes you" on a revealing journey of who you really are.
In the true spirit of the word "remember" which means to call back and gather all of the missing parts of your self that have been lost or forgotten, I offer my best wishes in your journey of remembering, reclaiming, and experiencing your most spacious self.
Happy clearing!
~ Stephanie Bennett Vogt